just:live is a live production playout for video and realtime graphics. It streamlines the playout of videos and realtime graphics in any live environment while maintaining full control over the situation.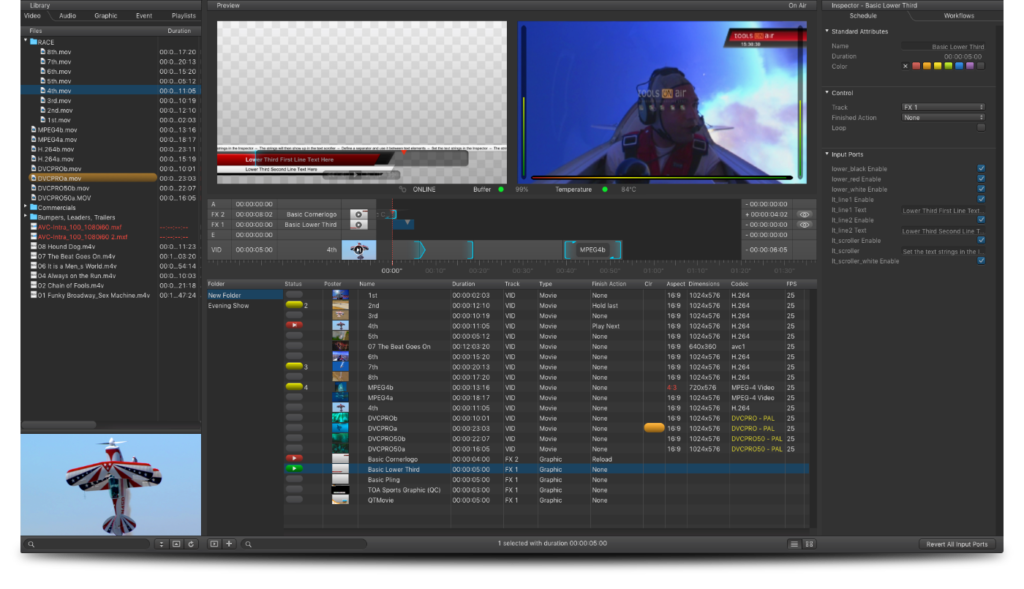 Concept
With its intuitive, customizable, timeline-based user interface, just:live enables broadcasters to manage the playout of videos, multiple layers of realtime graphics and router control/GPI events in a single interface. just:live's architecture enables the playout control of single or even multiple channels using one interface. Furthermore our multi-operator approach empowers multiple users to control a single station concurrently.

Flexibility
just:live's versatile graphical user interface provides an unlimited, frame accurate preview of all video items with the option to set new in- and out-points and the ability to split clips for commercial insertion. With just:live's integrated timeline, operators can easily monitor the progress of currently playing clips, while simultaneously building a rundown sequence which can be operated by a single mouse-click. Each clip can have its own unique finished action, such as play next, cue, reload or loop.

Video Quality & Realtime Graphics
just:live delivers the high-quality video and audio playout you expect from a professional broadcast environment by using Apple's pristine ProRes codec or uncompressed video. just:live's integrated playout engine provides supreme quality and back-to-back playout of mixed container formats, codecs, aspect ratios, pixel sizes and field orders. On top of that, interactive realtime graphics can be used to display live source data (i.e. news tickers, stock exchange, weather feeds). The tight integration with composition:builder – ToolsOnAir's graphics template creation tool – enables pre-produced templates to be dropped into a graphics layer (on top of the video layer), allowing content changes to be made during playout and delivered in realtime.


Reliability
Based on Apple's proven and robust macOS, just:live is an entirely native Apple Xcode development, compatible with the current Mac Pro, iMac and Mac mini models. Designed for tapeless workflows, just:live fully integrates into standard MAM, Newsroom systems and storage solutions.
Supported Codecs
DVCPRO, DVCPRO50, DVCPRO HD, DV,
DV Stream, DVCAM, HDV
All Apple ProRes Codecs
XDCAM HD/ES/EX (1080i and 720p)
MPEG-2 , MPEG-4, H.264
All AVID LE/PE codecs
AVC-Intra
JPEG
IMX
Apple Animation Codec
Supported Containers*
MOV, MP4, M4V
MPG, MPEG, MPEG-TS
AVI
3GP
F4V
DV
MXF
* some containers may not support all of the listed codecs.

Key Features
Manually controlled video and graphics playout & router control
Ability to control several channels using one multi-layer UI
Adjustable graphical user interface
Pre-built playlist rundown
Advanced finished actions
List view and thumbnail view
Built-in audio mixing capabilities
Built-in "OnAir" window
Direct trim and split of videos
Slow motion video playout
Live feed pass-through
Full featured SD, HD and UHD/4K playout
Mixed resolution playout back-to-back
Up to six layers of realtime graphics
Realtime data insertion
QuickTime movie and still image playout with alpha-channel
Third-party hardware control integration
Support for customized web-based user interfaces to control realtime graphics
Optional: RTMP streaming out
Optional: external time code display


System Requirements
Any current Mac Pro, iMac or Mac mini
Minimum of 12 GB RAM
OS X 10.10.5 or later
For detailed system requirements please consult the online user manual or contact us
---