ToolsOnAir's live:cut solution is a powerful and innovative tool that modernises multicamera production scenarios from talk and game shows to soaps and sitcoms up to live concerts and event recordings. Designed to streamline the entire multicamera production workflow, live:cut offers a range of benefits that enhance efficiency, flexibility, and creativity in live video production.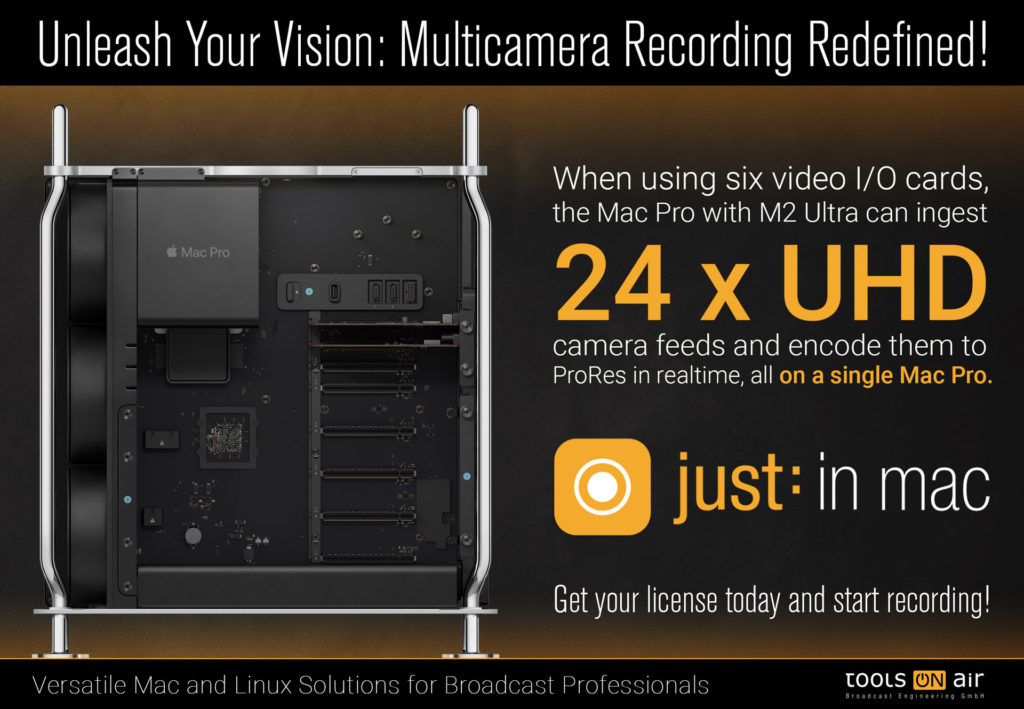 Increase live production efficiency
One of the key benefits of live:cut is its ability to harmonise multiple camera feeds, eliminating the need for time-consuming manual syncing. This ability significantly reduces post-production time and effort, enabling producers to focus on creating compelling content instead of dealing with technicalities.
At its core, live:cut relies on ToolsOnAir's just:in mac or just:in linux ingest solutions and provides seamless switching between multiple camera feeds, allowing producers to effortlessly track camera cuts and capture the action from different angles. With its intuitive interface and advanced features, built into the macOS based Just Control application, live:cut empowers operators to manage complex multicamera setups with ease, ensuring smooth transitions and delivering a final timeline, bypassing the need for time-consuming manual syncing.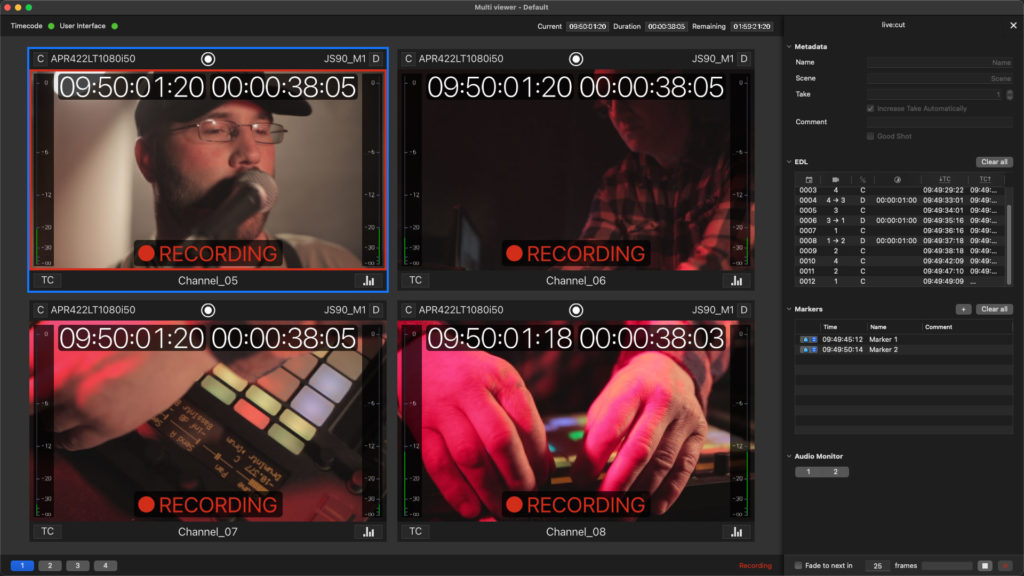 Easy To Setup, Reliable and Flexible
With every new purchase of a just:in mac 5.5 or just:in linux 5.5 license, live:cut is automatically activated and benefits from the robust and reliable macOS-based Just Control user interface.
A single button starts and stops the ISO recording process. With every camera cut triggered either via a traditional vision mixer over GPI, a Blackmagic Design ATEM production switcher or within the Just Control interface, live:cut creates and populates a real-time vision mixer EDL, that at the end of the recording procedure is instantly processed and exported into a track-layered and organised multicamera timeline XML file. Notes, labels, markers, and comments can easily be created during the recording to add valuable information for the editors. The exported file is immediately ready to be imported into Adobe Premiere Pro, Apple Final Cut Pro or DaVinci Resolve (v.18 and later) to complete the fast turnaround post-production cycle.
Overall, the combination of Apple's amazing new Mac mini, Mac Studio and Mac Pro hardware based on Apple silicon M2 and live:cut's efficient workflow, real-time switching capabilities, synchronization features, as well as integration flexibility, make it an invaluable multicamera recording solution for producers seeking to elevate the quality and efficiency of their live video productions.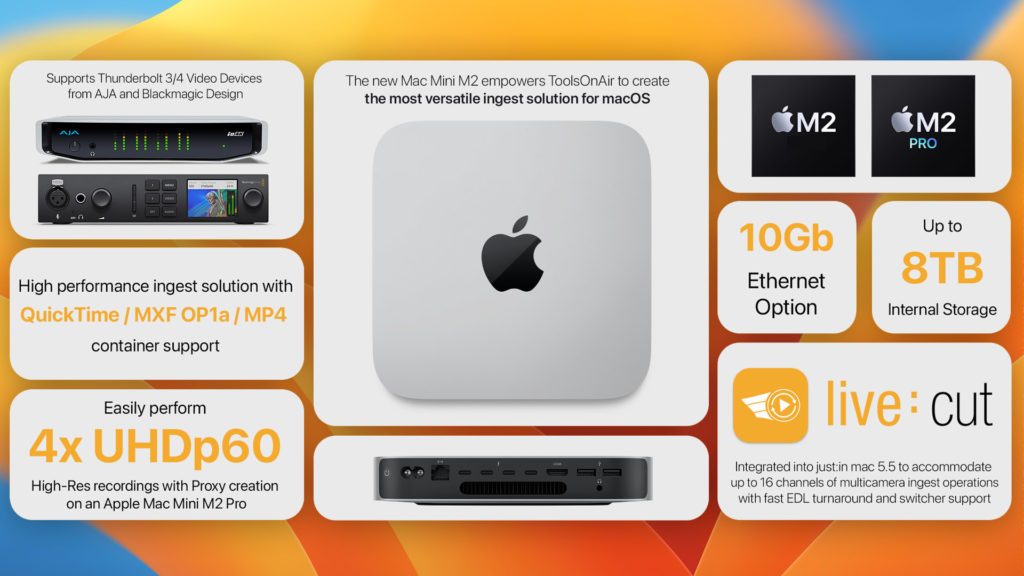 An ideal combination of unrivalled ingest solution and impressive hardware capabilities
Version 5.5 for just:in mac is macOS Ventura (13.x) certified and fully qualified to run natively on the Apple silicon architecture including the new and truly amazing Apple Mac Studio M2 Max/Ultra and Mac Pro 2023 M2 models. The combination of this highly efficient and powerful system architecture from Apple and our professional ingest solution offers many advantages and benefits to both our customers and our future innovations. You can now, for example, easily capture multiple UHDp60 channels in Apple ProRes with just:in mac on a Mac mini M2 Pro and benefit from its very attractive and power-saving form factor. Version 5.5 will still support macOS Monterey (12.6.x), macOS Big Sur (11.7.x) as well macOS Catalina (10.15.7) to ensure full deployment flexibility and safeguard our customer's investment in our solutions.
For more information about live:cut, please visit the following landing page:
ToolsOnAir live:cut product page: https://www.toolsonair.com/products/ai/justcc/
Or contact us at: moc.rianosloot@selas
###
About ToolsOnAir Broadcast Engineering
ToolsOnAir Broadcast Engineering GmbH, based in Vienna, Austria pioneered and introduced the idea and concept of "TV station in a Mac" and offers highly innovative, powerful, and versatile ingest, playout and live closed captions solutions, running on macOS and/or Linux platforms, to accommodate the daily needs of a TV station, while maintaining a cost-effective approach.