just:CC is a realtime Live Closed Captioning solution that generates CEA-608/708 caption data and inserts them into the VANC data stream of SD and HD signals.
24/7 Closed Captioning Generator and Inserter
just:CC empowers broadcasters to generate and insert Closed Captions onto their channel, even if the live signal or pre-made content does not come with CC data. Given that just:CC is an on-premise solution this is done independently of any internet connection. As of version 1.5 of just:CC might also be deployed to run in the cloud and be used in combination with the AWS speech-to-text engine. Other transcribing engines can be integrated on request.
Industry-leading Accuracy & Realtime Insertion
just:CC delivers a high-quality CC insertion you expect in a professional broadcast environment by using industry-leading speech-to-text recognition technology. Depending on the content, it's able to produce an accuracy of a stunning 90% and might perform more accurately than a human captioner in applicable cases. The tight integration of Linux enterprise server hardware, AJA video devices, and a modern browser user interface running on client hardware, allows to generate and insert the data using a turnkey solution.
Support of Common Closed Captions Formats
just:CC generates CEA-608/708 captions and "608 embedded in 708" CC data and can also detect and pass through already existing CC data. Once the data is generated it is inserted into the output signal using enterprise-grade hardware and is compatible with various external caption embedders. Next to the original SDI format support, version 1.5 adds the TS and ASI formats as well as NDI, SRT, RTMP, RTP and MPEG-TS I/O capabilities. The available framerates have been extended to include 25 fps and 50 fps in addition to the already existing 29,97 fps and 59,94 fps. Moreover, just:CC can optionally provide ready-to-run integration with a third-party transmission unit solution providing EBU and DVB Teletext, OP-47, CAVENA P31, SCTE-27, SD/HD In-Vision as well as ASI Output to DVB systems support.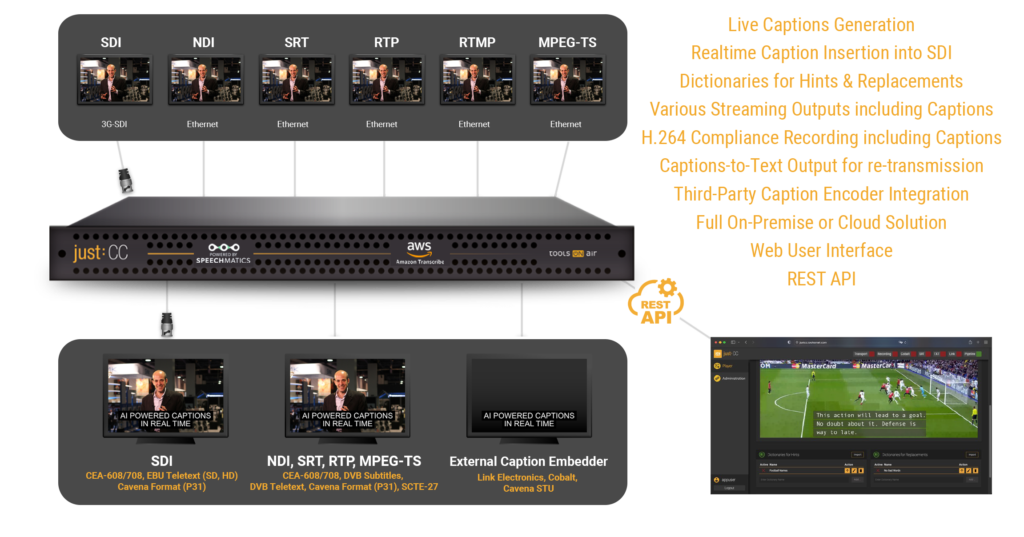 Easy Customisation
just:CC's intuitive and browser-based user interface allows the operator to adjust operationally critical settings, such as how the closed captions data is generated and how captions appear on screen. This includes the ability to select the target language, to define the accuracy/speed of the encoder, to force upper case captions on screen, and to refine the recognised text by adding sentences to both a White- and Blacklist. The user interface allows adjusting the on-screen appearance even during on-air operation.
Support for 48 Languages with Pristine Accuracy

Language captions in just:CC can be optionally extended where needed, based on the wide range of languages supported by the Speechmatics engine, namely: Arabic, Bashkir, Basque, Belarusian, Bulgarian, Cantonese, Catalan, Croatian, Czech, Danish, Dutch, English, Esperanto, Estonian, Finnish, French, Galician. German. Greek, Hindi, Hungarian, Interlingua, Italian, Indonesian, Japanese, Korean, Latvian, Lithuanian, Malay, Mandarin, Marathi, Mongolian, Norwegian, Polish, Portuguese, Romanian, Russian, Slovakian, Slovenian, Spanish, Swedish, Tamil, Thai, Turkish, Uyghur, Ukrainian, Vietnamese, Welsh.

System Requirements
Linux-based enterprise-grade server with selected AJA video device
Modern web browser running on PC or Mac to control the user interface and server settings
Supported frame rates: 25, 29.97, 30, 50, 59.94
I/O: SDI, NDI, SRT, RTMP, RTP, MPEG-TS
For detailed system requirements, please contact:

moc.rianosloot@selas
System Requirements
Linux-based enterprise-grade server with selected AJA video device
Modern web browser running on PC or Mac to control the user interface and server settings
Supported frame rates: 25, 29.97, 30, 50, 59.94
I/O: SDI, NDI, SRT, RTMP, RTP, MPEG-TS
For detailed system requirements, please contact:

moc.rianosloot@selas