What's New in just:play and just:live Version 4.0
Learn about new features and enhancements available in version 4.0 of just:play and just:live – RELEASED
---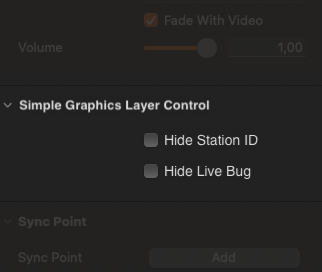 NEW – Simple Graphics Option
Version 4.0 introduces a new way to use on-air graphics. This new feature is aimed at customers that do not necessarily require animated graphics for their channels but want to air a simple station bug or independently need to define two still images where one will be played by default for every element in the video track (movie, live event, and so on) and the other one whenever a live event is on air.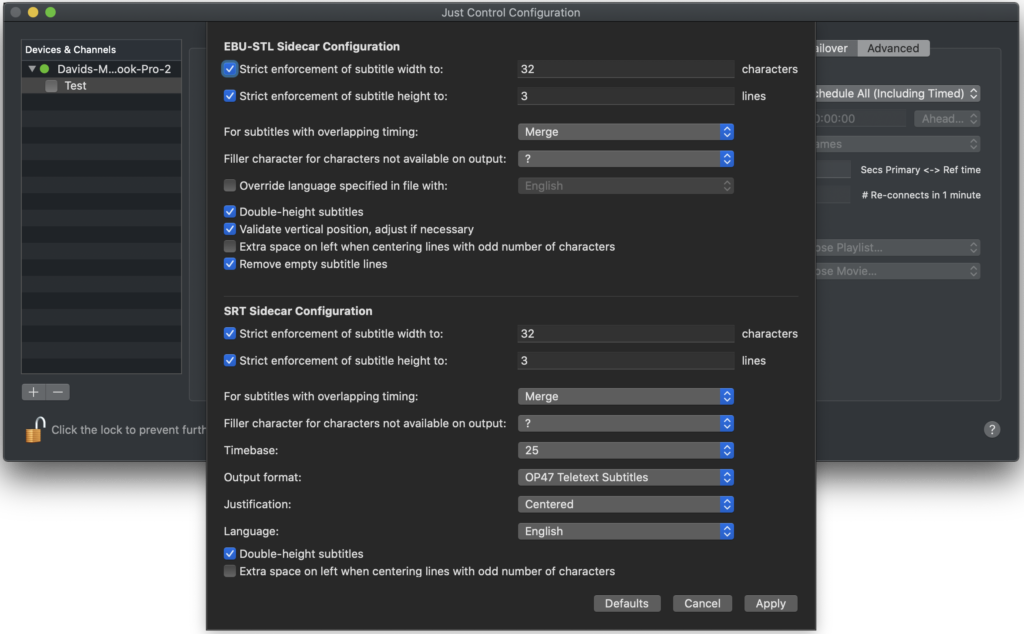 NEW – OP-47 and improved subtitle support
Version 4.0 will support the insertion of OP-47 subtitles as VANC data into the SDI signal, either embedded in the MXF container or provided as EBU-STL or SRT sidecar files. In addition to that, sidecar files in the SCC, MCC, or SRT formats are now fully supported for CEA-608 or CEA-708 closed captions.
UPDATE – Improved Channel Handling
In addition to the already extensive professional playout features, version 4.0 extends its channel handling capabilities by allowing ad-hoc changes to non-engine related settings, without affecting the on-air signal. This also applies to changes to a channel with a redundant engine.
---
What's New in just:play and just:live Version 3.5
Learn about new features and enhancements available in version 3.5 of just:play and just:live – RELEASED
---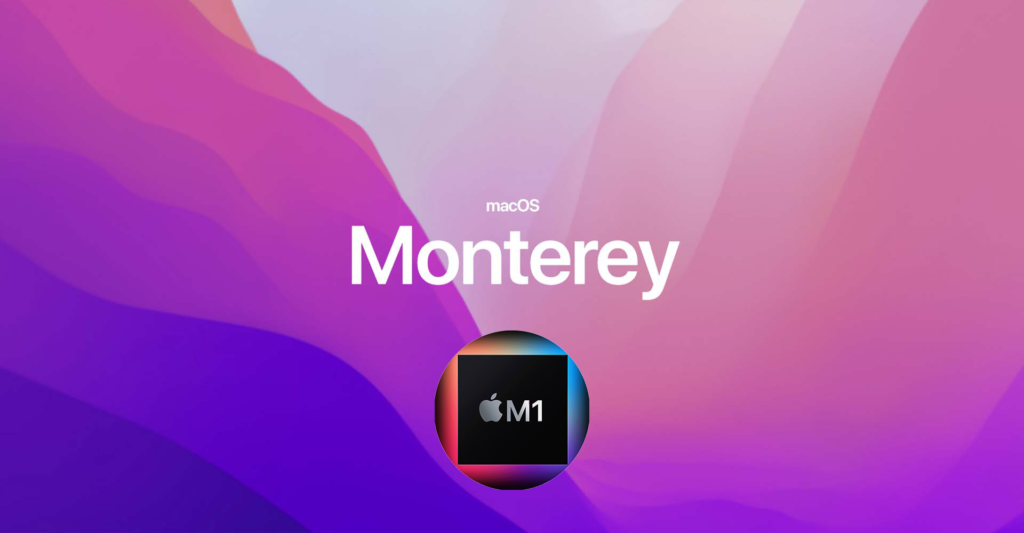 NEW – macOS Monterey and Apple silicon Support
With version 3.5 of our playout solutions just:live and just:play, we have introduced native Apple silicon and macOS Monterey (12.x) support. This means that all our playout solutions will run natively on both Apple silicon and Intel-based Mac hardware. Version 3.5 will still support macOS Catalina (10.15.7) and macOS Big Sur (11.7) to ensure full deployment flexibility.
---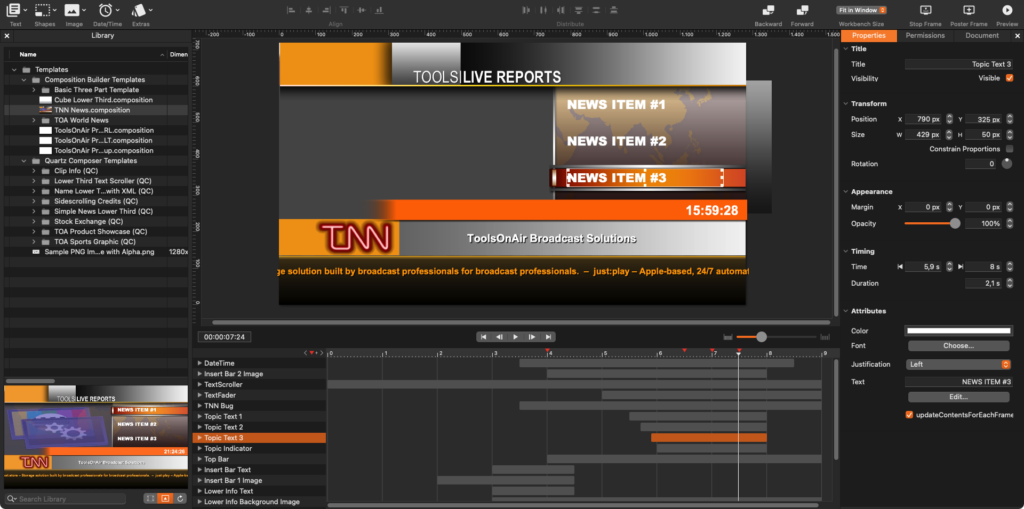 NEW – composition:builder version 5.0
Version 3.5 includes a new version of Composition Builder, our realtime GFX editor. Composition Builder version 5.0 adds 64-bit support as well as compatibility with macOS Catalina, macOS Big Sur and macOS Monterey and runs natively on Apple silicon- and Intel-based Macs.
---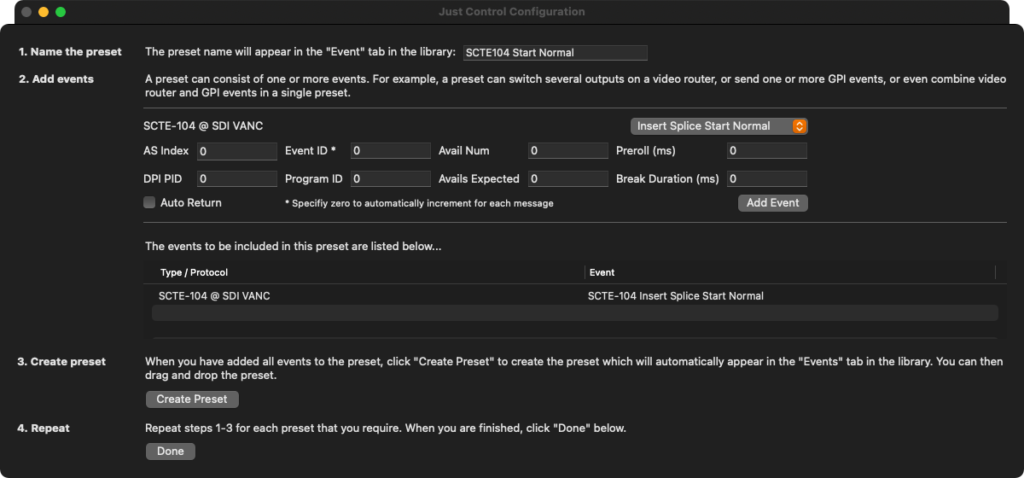 NEW – SCTE-104 Splice Events
Version 3.5 introduces "SCTE-104" to the list of devices in the "Events" tab in the Just Control Configuration window. Once activated, you can generate SCTE-104 "insert splice data" presets in the "Presets" tab. These presets can then be played out by scheduling them in an optional Event layer, that inserts SCTE-104 events into the VANC data of the SDI output signal.
---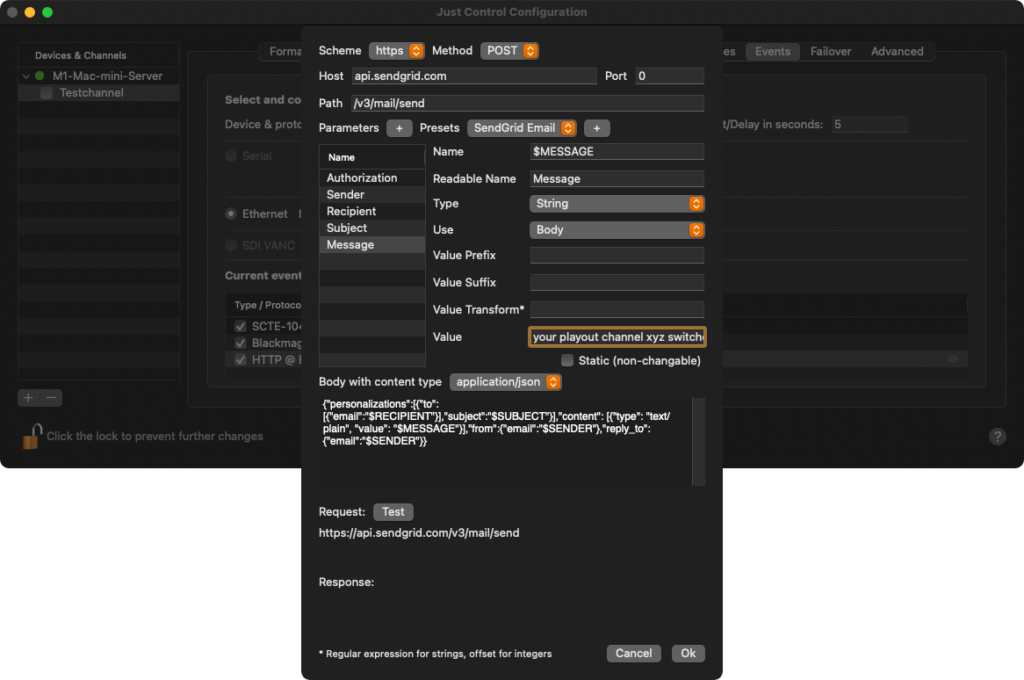 NEW – HTTP GET/POST events
HTTP events have been extended to include both GET and POST methods in order to support more web services. To be able to send mail, an SMTP service provider account is required. We have been testing the free service from "SendGrid" and a preset has been added to make the setup as easy as possible.
---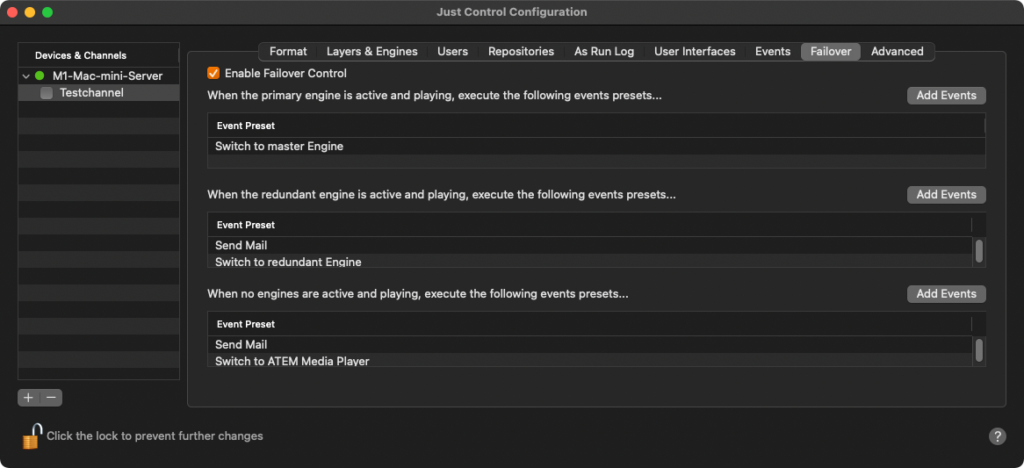 NEW – Revised Failover Functionality
The channel configuration panel in version 3.5 has an additional "Failover" tab allowing you to define the event presets that should be executed when the channel is in any of these three states: "Primary", "Redundant" and "Failover". For each state, you might define the event preset that will switch a video router (AJA KUMO, Blackmagic Design VideoHub or ATEM) to the correct SDI input for the relevant "state" and a notification e-mail, GPI trigger or any other kind of supported event.
---
NEW – UHDp60 playout on Apple silicon
Using an Apple silicon-based Mac mini, it is now possible to play out at higher frame rates including UHD 60fps. Doing so does not compromise the ability to play realtime graphics, or to run the user interface just:control on the same machine.
---
NEW – Reference LTC Timecode
The playout engine Just Out supports reference LTC timecode for syncing the master time, either via an audio input or by connecting directly to the AJA's LTC input port (not available on all cards). These additional sources can be selected in Just Out's preferences panel.
---
NEW – Hardware Genlock Support
Version 3.5 adds support for hardware Genlock. When a reference signal is attached to an AJA device without a live input, then the output will lock to the reference signal.
---
IMPROVED – Window Positions retain settings
In version 3.5 window positions are now restored after a restart of the control application Just Control.
What's New in just:play and just:live versions 2.5 – 2.7
Learn about new features and enhancements available in the current versions 2.5 – 2.7 of just:play and just:live
---
Version 2.7 Changes – just:live & just:play
This version brings official support for macOS Mojave. Please use AJA driver version 14.2.1 and the latest driver version from BMD depending on the video device used.
Support for the ability to control just:in v4 engines using Events. This version supports ONLY just:in v4 and higher and does not support v3.x of just:in. Please use v2.6 to control just:in v3.x engines.
Growing or copying files are supported now. Such files are shown in Italic in the Library until they finished growing/copying but can be played out already. The ability to preview growing/copying files is disabled.
Stability and speed improvements as well as several bugfixes.
---
Version 2.6 Changes – just:play only
It is now possible to execute a "jump to next" even if nothing at all is scheduled after the on-air event (will jump to black).
If you attempt to switch to a channel within just:play using the drop-down menu, an error is now displayed if the channel isn't reachable (e.g. just:connect is not running, or the channel is incorrectly configured), and the previous channel remains connected.
---
Version 2.6 Changes – just:live only
The current document name and the name of the connected channel are now displayed in just:live's toolbar.
There is a new "Log out" menu item that returns you to the channel connect window. This allows you to switch channels without needing to quit and re-start just:live.
---
Version 2.6 Changes – just:live & just:play
Stability and speed improvements, several bugfixes.
It is now possible to define "just:in" events in just:connect and then add them to the library events tab. You can define events to start or stop just:in recording, or do a timed record with a specific duration.
Added six new metadata columns to the library: "Date Created", "Date Modified", "Data Added", "Last Opened", "Kind" and "Tags".
Fixed an issue when starting the system with just:out started by Stay Alive that could cause unexpected results with an AJA device.
Renamed the "Fast Setup" links in the installer to "Getting Started" and set the correct icon for all such links.
There are new codec-based decoding strategy options in just:connect in the "Advanced" tab. Here you can specify how just:out should decode specific codecs.The options are legacy QuickTime, AVFoundation within just:out (i.e. a 32-bit process), or an external 64-bit AVFoundation decoder. Normally you should not change these options unless instructed to do so by a ToolsOnAir support engineer or partner. This can be used to fix some crashes related to decoding specifc video files using AVFoundation in 32-bit.
---
Version 2.5 Changes – just:play only
Optional just:next to execute the jump to next on several channels with a single mouse click.
Placeholder clips within a playlist can now be automatically "linked" or updated with a file. To achieve this, ensure that the placeholder's name matches exactly the name of the movie that will be created at some point (including file extension).
The status of the channel's main engine is now displayed with a "traffic light" system for buffer and CPU temperature. Yellow lights mean a warning, while red lights mean something requires immediate attention.
Double-clicking an item in the library now adds it to the selected playlist in the workbench.
A color code can now be used to turn an infinite graphics off. Such a color code can be defined on finder level or within the just:play user interface
---
Version 2.5 Changes – just:live only
There is now a complete new control area available in just:live, where the status of the channel's main engine is now displayed with a "traffic light" system for buffer and CPU temperature. Yellow lights mean a warning, while red lights mean something requires immediate attention.
It is now possible to drag and drop items scheduled in the timeline to re-order them.
It is now possible to double-click an item or items in the library to add it/them to the currently selected folder on the workbench.
Start action – This action can be defined like the finished actions and could include a GPI trigger or BMD ATEM commands but maybe also execute on:core workflows.
New Finished Action option (like the loop) to trigger a workflow or event.
---
Version 2.5 Changes – just:live & just:play
just:store offers a unique interface, high performance, reliable hardware and storage up to 192 TB
Stability and speed improvements, several bugfixes.
Support for the play out of movies wrapped into an .mkv container format.
Extended "Stay Alive" in the Tools On Air System Preferences pane to included "scheduled restarting" of all applications.
The size of the proxy preview sent from just:out to just:connect and then onto just:live/play can now be defined in just:connect in the channel's format settings.
With multiple "on-line" channels in just:connect, the proxy previews in just:live/play now function for all channels, not just the currently selected channel in just:connect.
When reading metadata for the library, a "sidecar" XML file is automatically generated for each file to store the metadata. When the metadata is again requested (e.g. when starting just:play again, or running just:play on a second system), the metadata will be read from this sidecar file instead of the file itself.
It is now possible to define a "Filler movie" in the "Advanced" tab for a channel in just:connect. Once defined, the filler movie will play in a loop whenever just:out detects that no movie is currently playing on the main video layer.
Customers with a valid maintenance contract with Tools On Air are entitled to one free license to test onCore Designer.
Added two additional fields to the "Advanced" tab in just:connect, both related to automatically re-starting just:out under certain conditions.
For channels using redundancy, if the master engine fails the slave engine will now send all diagnostics (including the proxy preview) to just:connect and then onto just:live/play.Optional failover solution based on an AJA Kumo switcher or a BMD ATEM switch.