Vienna, Austria. May 10th, 2023 – ToolsOnAir, a leading provider of broadcast solutions for macOS and Linux platforms, today announced the availability of new version 1.5 of its just: CC Live Closed Captioning solution for the European and Asian markets.
"We recognised early on, that Live Closed Captioning is an important and forward-looking application to facilitate automated production processes for broadcasters who need to comply with legal requirements for closed captioning, as well as for viewers who rely on captions to access content. We are therefore happy to extend our solution's availability to the European and Asian market." says Peter Steiner, Head of Worldwide Sales at ToolsOnAir.
The first inception of ToolsOnAir's Live Closed Captioning offering, running on-premise on a Linux-based server, was developed for the US market and designed to generate CEA-608/708 caption data and insert them into the VANC data output stream of SD and HD signals including compatibility with various external caption embedders. The on-premise variant was chosen to comply with privacy and data sovereignty policies, processing speed as well as independence from the need for an internet connection.
just: CC's intuitive and browser-based graphical user interface allows the operator to adjust operationally critical settings, such as how the closed captions data is generated and how captions appear on screen. This includes the ability to define the accuracy/speed of the encoder, the ability to force upper case captions on screen, and to refine the recognised text by adding sentences to both a White- and Blacklist or library. Moreover, the on-screen appearance can be adjusted even while on air. Additionally, just: CC can be fully controlled over third-party automation systems, playout, or other orchestration systems over its REST API in realtime.
With the launch of version 1.5 of just: CC for the European and Asian market, the solution has gained additional features and improvements, especially in the area of Input/Output capabilities, support for additional languages and formats, applicable frame rates, and deployment alternatives.
Enhanced Input, Output and Frame Rate support in version 1.5
Next to the original SDI format support, version 1.5 adds the TS and ASI formats as well as RTP and MPEG-TS I/O capabilities. The available framerates have been extended to include 25 fps and 50 fps in addition to the already existing 29,97 fps and 59,94 fps. Moreover, just: CC can optionally provide ready-to-run integration with a third-party transmission unit solution providing EBU and DVB Teletext, OP-47, CAVENA P31, SCTE-27, SD/HD In-Vision as well as ASI Output to DVB systems support.
Support for 48 languages with pristine speech model accuracy
Language captions in just: CC v.1.5 can be extended where needed, based on the wide range of languages supported by the Speechmatics engine, namely: Arabic, Bashkir, Basque, Belarusian, Bulgarian, Cantonese, Catalan, Croatian, Czech, Danish, Dutch, English, Esperanto, Estonian, Finnish, French, Galician. German. Greek, Hindi, Hungarian, Interlingua, Italian, Indonesian, Japanese, Korean, Latvian, Lithuanian, Malay, Mandarin, Marathi, Mongolian, Norwegian, Polish, Portuguese, Romanian, Russian, Slovakian, Slovenian, Spanish, Swedish, Tamil, Thai, Turkish, Uyghur, Ukrainian, Vietnamese, Welsh.
On-Premise and Cloud deployment variants available
Version 1.5 of just: CC can also be deployed to run in the cloud and be used in combination with the AWS speech-to-text engine. Other transcribing engines can be integrated on request.
"Overall, an on-premise Live Closed Captioning solution provides broadcasters with greater control, higher accuracy, increased flexibility, compliance, and improved viewer experience. By investing in our high-quality live captioning solution just: CC, broadcasters can ensure that their content is accessible to all viewers and comply with legal requirements, while also improving the overall quality of their content." summarises Peter Steiner, Head of Worldwide Sales at ToolsOnAir.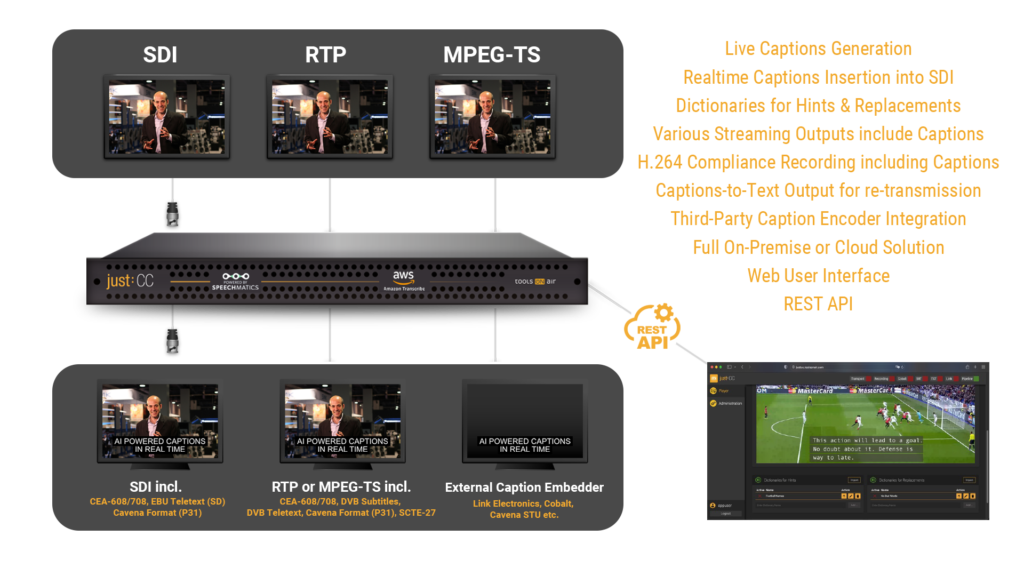 For more information about just: CC, please visit the following landing pages:
ToolsOnAir just: CC Live Closed Captioning Solution: https://www.toolsonair.com/products/ai/justcc/
Or contact us at: moc.rianosloot@selas
###
About ToolsOnAir Broadcast Engineering
ToolsOnAir Broadcast Engineering GmbH, based in Vienna, Austria pioneered and introduced the idea and concept of "TV station in a Mac" and offers highly innovative, powerful, and versatile ingest, playout and live closed captions solutions, running on macOS and/or Linux platforms, to accommodate the daily needs of a TV station, while maintaining a cost-effective approach.