Seamlessly integrating into the production workflow of any TV station or post-production facility, just:in records multiple video sources directly into Apple QuickTime, MXF OP1a and MP4 containers.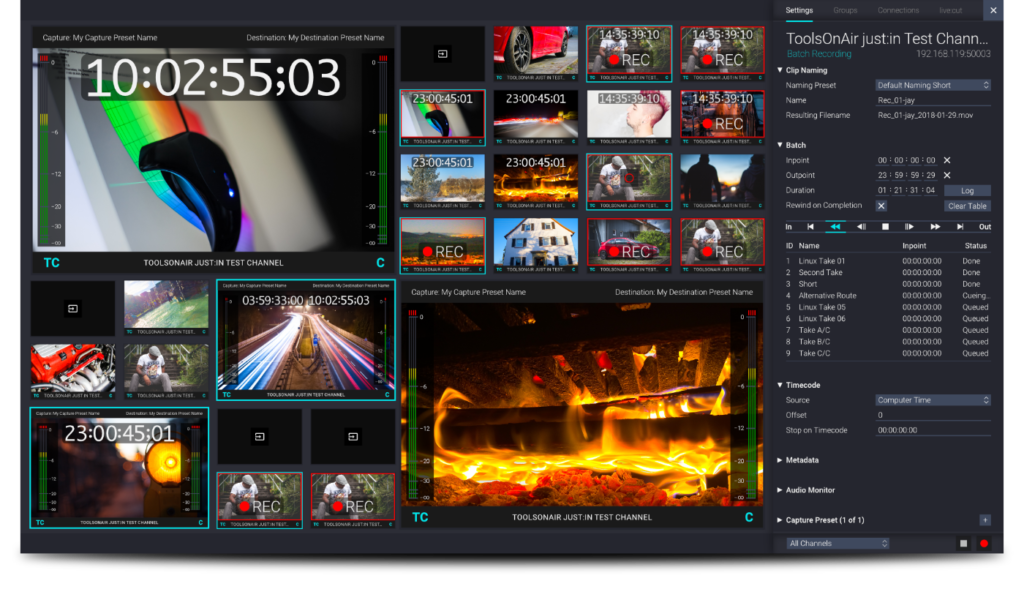 Unlike other software design philosophies just:in unites single and multi-channel ingest into one flexible and expandable client-server ingest solution. 
Reliability & Flexibility
just:in is built for 24/7 deployment and easily adapts to the shifting requirements of time sensitive broadcast environments. Featuring fallback destinations for out-of-storage or network connection loss scenarios and safe-write logic in the event of a power outage, just:in ensures that your recordings are safe and secure.

Customizable presets allow operators to quickly switch between commonly used setups. The ability to use two or more concurrent capture instances also makes just:in the ideal ingest solution for loop recording. This significantly speeds up editing in your NLE, without prior conversion in MAM systems.

Using the integrated XML writer engine operators can either customize XML export by writing XML files with descriptive metadata to accompany QuickTime and MXF generated files or by writing the desired metadata set directly into the QuickTime file (Metadata can be easily imported to Cantemo Portal or Axle).

Customizable pre- and/or post-record scripts allow operators to automatically execute actions like generating placeholders in MAM systems or uploading files to FTP servers.
Product Deployment
just:in is a client-server solution. With the built-in video and audio previews and the single/multi-channel control panel, the ingest operator controls all available ingest machines from a single interface.
Supported Codecs & Containers
QuickTime (PAL, NTSC, HD, 4K/UHD)
ProRes422, LT, Proxy and HQ
H.264
Photo JPEG
Supported frame rates: 23.98, 25, 29.97, 30, 50, 59.94, 60
MXF Op1a (PAL, NTSC, HD)
IMX 30/40/50
XDCAM EX, XDCAM HD, XDCAM HD422
"AVC-Intra 50M/100M
Supported frame rates: 25, 29.97, 30, 50
MP4 (PAL, NTSC, HD, 4K/UHD)
H.264
Supported frame rates: 23.98, 25,29.97,30,50,59.94,60
Key Features
Apple QuickTime MOV, MXF OP1a and MP4 Container Capture
Available as Single- or Multi-Channel Setup
Multi-Channel Preview and Ingest Control for Client-Server Operations
Gang Recording Support for Multi-Cam Setups
Frame accurate Crash Recording
Edit-While-Recording Support in Apple Final Cut Pro 7/X or Adobe® Premiere® Pro
Infinite Chunk Recording
Support for customizable XML Metadata
Post-production Naming Procedure
Supports pre- and post-commands using customizable Scripts (e.g. FTP upload or MAM connections)
Multiple Capture IDs per Channel
Multiple Destinations
Burnt-in Timecode Support
Up to 4K/UHDp60
Hardware
1RU Server
4x Channel HD or 8x Channel HD Configurations
1x Channel UHD/4k or 2x Channel UHD/4k (up to p60)
Redundant Power Supply
10Gbit Ethernet Ports
Integrated Storage
---